"Here we go, on our way down to Tofino,
maybe we can catch some waves…"
Not that we were looking for some waves to surf on them, but we were looking forward to go there again. Those of you who remember, San and I were married there on one cold and stormy December day, four years ago. Visiting that same place again was and is always something special to two of us.


Beside walking on some of the beaches in the area, our plan was to go to Vargas island, hoping to see some of the wolves that live there; unfortunately, the weather that morning was stormy and windy, cold, and we were not prepared adequately for that. However, we will come back in the summer, we want to go to northern Vancouver Island and hike there. On a way back we plan to spend few days in Tofino and maybe even kayak to Vargas island and camp there.
Anyway, instead of Vargas island we were hiking in the area – Pacific Rim National Park – and even though we didn't see any bigger wildlife, we were aware they are around.


two days old possible wolf track on remote side of a beach; tracks were coming from the forest but never left that small clearing (wolf probably returned back to forest);


one of the trails we used to go to Valencia beach; on a way back, we've seen what might be a wolf feces, very fresh and definitely not there when we were going to beach, about an hour before;
But we've seen a lot of birds – gulls, wrens, oystercatchers, eagles,…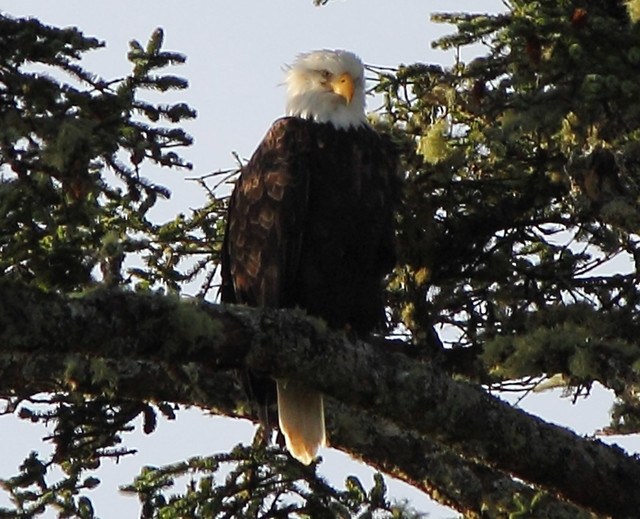 And the scenery was fantastic. Even though it was not as stormy as during our previous two visits, waves were big enough. Cold, wind, rain,.. I don't mind them at all, they make me sit there in silence and look at endless waves crashing on the beach. And forget about troubles of the everyday life. I can completely understand wave surfers and their desire to stay there forever. It is so easy to slip into oblivion, to give yourself up. The rest of the world simply doesn't exist there.


The rest of the photographs you can find here.